About the island of Hoy in Orkney
When Islanders or visitors who are staying in Orkney for a few days choose to visit islands, Hoy is the most popular destination. It is a spectacular island, quite different from the rest of the Orkney islands - it is rugged and brown where the Orkney mainland is green flat farmland.
Hoy has a haunting feel and has been favoured by Orkney's poets and musicians - and there is a wealth of things to see. In North Hoy is the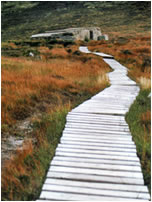 islands most famous landmark, the Old Man of Hoy, a 137m sea stack made up of bright red sandstone. A short walk along the same cliff is St Johns Head, one of Britain's tallest vertical cliff faces, standing at 351m. On the road to Rackwick is the Dwarfie Stane,a Neolithic tomb cut into a massive slab of rock, and Rackwick itself is the highlight of any holiday.
Set between three hills, this valley, with its Atlantic-facing beach, was once abandoned in the early twentieth century. New life has slowly crept into this beautiful place, and many Orcadians from the mainland, who already live in beautiful places - have chosen Rackwick - the most stunning valley and sea-swept beach of all - to build holiday homes. This is where you will find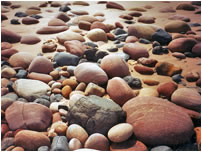 Scar Cottage high on the hill, looking down towards a beach of massive sea-smoothed boulders and sand. Life is still quiet on Rackwick, with few noises except the sea and at night so few lights that the valley is plunged into an almost inky blackness.
Elsewhere in Hoy, we recommend a visit to the desolate Betty Corrigall's Grave - whose tragic story led her to be buried away from hallowed ground on a lonely moor. In the South of Hoy the Scapa Flow Visitor Centre at Lyness tells the fascinating story of Scapa Flow during the World War 2 and if you continue on, you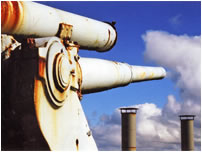 would reach the Martello Towers - which were built for defence during the Napoleonic Wars, as well as Melsetter House, and the Longhope Lifeboat museum.
Everywhere you go in Hoy you will find fascinating stories - stay at Scar and soak up the history and atmosphere (and the sun - for Rackwick is renowned as the warmest place in Orkney) for the most peaceful, relaxing, safe and unique holidays you could hope to have.
Ferries to Hoy land at Moaness (a passenger-only ferry from Stromness) and Lyness (a passenger and car ferry from Houton in Orphir on the Orkney Mainland.) View timetables on the Orkney Ferries website.